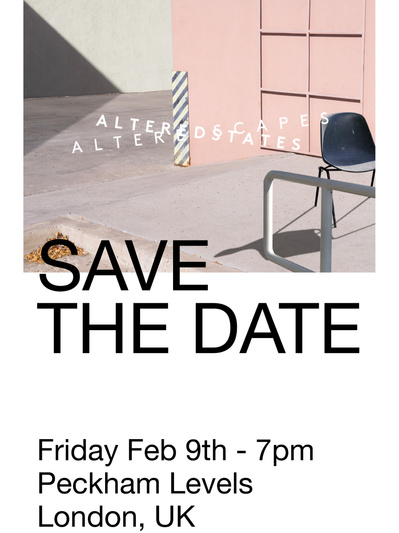 After meeting two years ago on Instagram, artists Christensen and Eyre have created alteredstates/alteredscapes, a photographic exhibition that explores the impact of social media on the creativity of artists and how we experience art in the digital age.
Join us on Friday 9th February from 7pm at Peckham Levels, as we celebrate the opening of alteredstates/alteredscapes.
Jim Eyre is a London-based photographer and creative director.
Natalie Christensen is a Santa Fe, New Mexico-based photographer and psychotherapist.
Signed single edition prints will be offered for sale through Minimal Zine and produced by loveurope.
In support of the members involved in Peckham Levels, a Q&A and photo walk will be held on Saturday 10th February @ 2pm supported by 3rd Rail Print Space and The Bright Rooms.
Friday 9th February - 7pm
Peckham Levels
Peckham Town Centre Carpark
95A Rye Lane
London SE15 4ST